Sheikh Mohammed bin Rashid reaffirmed relations by meeting with the Eastern European country's president-elect and showed respect at The Tomb of the Unknown Soldier.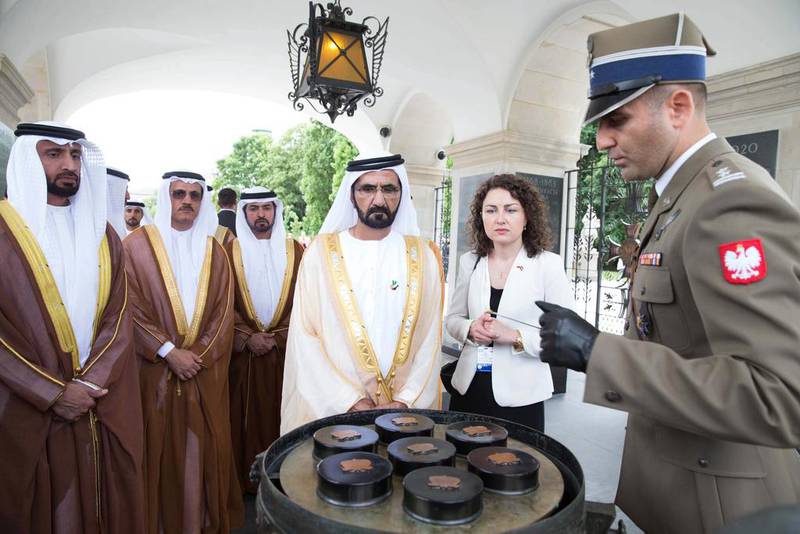 Sheikh Mohammed bin Rashid this week visited Poland to strengthen relations between the UAE and Warsaw after the country's recent presidential election.
The Vice President, Prime Minister and Ruler of Dubai met and praised the eastern European country's president-elect Andrzej Duda in a trip that not only reaffirmed relations at a time of leadership change but was also useful for Expo 2020 and Dubai's smart city project.
In Warsaw, Sheikh Mohammed visited the Tomb of the Unknown Soldier to honour those who fought for their country in the First World War, a royal courtesy of great significance.
Mr Duda hails from the southern city of Krakow, a major smart city hub, so no doubt this was a point of discussion given Dubai's Plan 2021, which outlines the emirate's move to become a thriving technology and innovation base.
For more than 20 years, Dubai and Poland have had a strong relationship that extended to a similar philosophy for cooperation, mutual respect and a shared enterprising spirit.
Poland made a major splash at Dubai's 2005 Cityscape, one year after the country joined the European Union.
Trade between Dubai and Poland has doubled over the past five years and Emirates Airline started daily non-stop flights to Warsaw in 2013.
Dubai's total non-oil trade with the Poles has risen from Dh1.8 billion in 2010 to Dh3.6bn in 2014 and trade is only accelerating as it jumped by 35 per cent last year alone.
There are 31 Polish companies registered with Dubai Chamber and there appears now to be greater potential for more Polish investors in Dubai after Sheikh Mohammed's Warsaw trip.
One year ago, Dubai Silicon Oasis Authority, the regulatory body for Dubai Silicon Oasis, the free zone technology park, signed an agreement with the Polish Information and Foreign Investment Agency to link the two entities.
In late April, Hamad Buamim, the president and chief executive of Dubai Chamber, called upon UAE and Polish businesses to explore new opportunities with central Europe.
Poland is a gateway to markets in both central and eastern Europe, while Dubai is a gateway to the Middle East, South East Asia and Africa, thus both countries' locations offer ample opportunities for enhanced trade ties.
The chief executive of the Polish Business Group UAE, Dr Wael Suleiman, regularly talks of small firm development between Warsaw and Dubai. He coordinates with Dubai Chamber on cross-investment opportunities.
According to Dr Suleiman, for trade to increase further, there needs to be changes in air freight charges and timing of payments.
However, by far the most significant point of the trip relates to Expo 2020.
In 2013, the now outgoing Polish president, Bronislaw Komorowski, met Sheikh Mohammed at Zabeel Palace to support Dubai's Expo 2020 bid. That Warsaw threw its full support behind the bid cannot be underestimated given that the Polish city of Lodz is suggested as a possible venue for Expo 2022.
It is likely that Dubai will help Poland in terms of lessons learnt from conducting its own Expo.
Clearly, with Expo 2020 five years away, Dubai is pursuing cooperation with Poland across many sectors as part of its own vision.
newsdesk@thenational.ae
Dr Theodore Karasik is a UAE-based geopolitical analyst and commentator on UAE foreign affairs